Standing Water Can Cause Serious Damage to Marysville Homes
8/26/2021 (Permalink)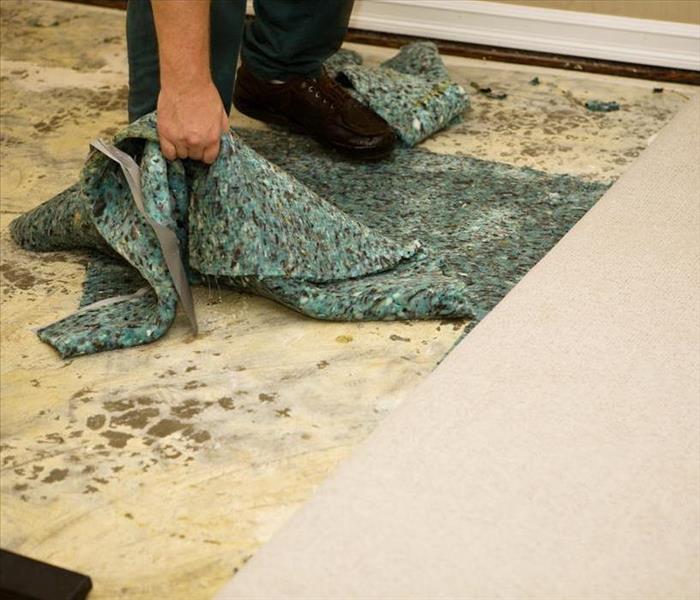 When water damages your flooring, it isn't a total loss if you catch it in time. SERVPRO will be on-site within 4 hours of the initial call.
SERVPRO Uses a Variety of Water Damage Repair Tools When In-Home Flood Strikes in Marysville
Time is critical when it comes to water extraction, which is why SERVPRO is fast to the scene after a call out. Immediate water extraction is critical to prevent further damage to the structure and content. Our team has the right tools to remove standing water as quickly as possible.
Extracting Water from Carpet & Padding
Porous materials like carpeting and padding absorb water readily. One of the tools we use for water damage repair in Marysville on carpets is weighted extractors. These extractors allow us to pull the water from the rug without having to replace the carpet. There are times when we can't save the padding, but if we can, we will.
Removing Water from Harder Surfaces
Tile, hardwood, and concrete flooring are not as porous. Many times, we can remove the water from these surfaces before the subflooring is damaged. We use equipment such as:
Light wands
Squeegees
Portable pumps
Call in the Water Extraction Pros
The most important thing when you have a burst pipe, overflowing dishwasher, or other water intrusions is to call in professional help. The longer the moisture remains, the more damage it does. Excess moisture can also lead to mold in less than 48 hours. SERVPRO can extract the water, dry the premises, do any needed repairs and restoration, and give you back your home. Contact SERVPRO of Marysville / Arlington at (360) 658-0506 for all your water restoration needs. We're Faster To Any Size Disaster.