When Marysville Homeowners Need Fire Restoration Pros
1/26/2021 (Permalink)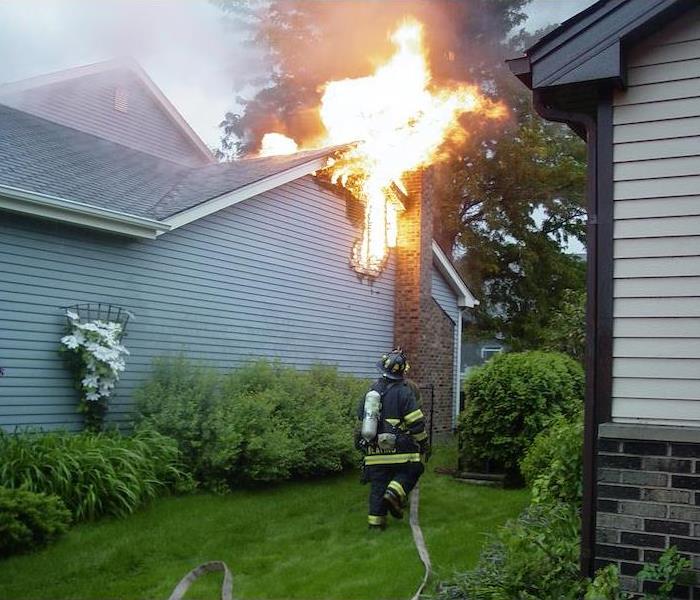 SERVPRO professionals are trained to handle every level of fire damage. Call us today, we are always available.
SERVPRO Repairs Structures with Fire Damage Restoration Tools
Marysville is not only one of the largest cities in Snohomish County, but it has also become the fastest-growing city in Washington state in recent years with an average annual growth rate of 2.5 percent. The Strawberry City currently houses approximately 70,000 people as of 2019, and its largest employers include:
The Marysville School District
Walmart
C&D Zodiac Aerospace
Fred Meyer
The Optum-owned Everett Clinic
Many Marysville residents commute to nearby Downtown Seattle, Eastside, or Everett to work at Boeing, Amazon.com, Microsoft, and Naval Station Everett.
Marysville is most well-known historically for its thriving lumber and farming industries. The "Strawberry City" moniker stems from the proliferation of strawberry fields in the area by the 1920s. Notable names from Marysville include state representative Emily Wicks, economist Robert A. Brady, hockey player John DeCaro, artist Jan Haag, and whistleblower Charles Hamel.
Marysville's Fire District
The Marysville Fire District (MFD) oversees fire suppression efforts for the city of Marysville and other locales, including Quil Ceda Village, Seven Lakes, unincorporated areas of Snohomish County, and part of the Tulalip Reservation. As of May 2020, the district has been given a Class 3 designation by the Washington Surveying and Rating Bureau, which can decrease insurance premiums for homeowners in the area.
According to 2018 data, this voter-created regional fire authority responded to over 14,000 incidents, 87% of which were medical emergencies. Seven percent of calls were for fires, and the remaining six percent were listed as "Other." After seeing a steady increase in emergency calls per year from 2010 to 2017, calls started to decrease in 2018.
Firefighters in the MFD are certified either as emergency medical technicians (EMTs) or paramedics to provide basic and advanced life support services, respectively. The department complies with HIPAA regulations to ensure that individuals' public health information remains safe.
Special operations teams within the MFD include hazmat response, rescue swimmers, and technical rescue units. The Hazardous Materials Response Team protects the community from hazardous liquids and vapors. The Rapid Entry Rescue Swimmer team requires members to perform free dives as deep as 40 feet for certification. Technical Rescue Technicians, meanwhile, specialize in rescue operations involving tight spaces, trenches, urban search and rescue, and other high-risk emergency rescue situations.
How Does SERVPRO Remove Soot During Fire Restoration?
Your local SERVPRO is staffed by technicians well-versed in fire restoration for Marysville homes per Institute of Inspection Cleaning and Restoration Certification (IICRC) standards.
Soot cleanup methods vary based on the type and extent of damage and include:
Light manual dry cleaning and vacuuming of loose, dry deposits
Wet cleaning and alkaline solutions for moderate damages
Immersion cleaning or abrasion with blast media like soda ash and corn cobs to remove soils and charring
Soot is cleaned from lightest to heaviest for a more efficient workflow that salvages structures and belongings.
SERVPRO of Marysville / Arlington is a phone call away from providing home fire restoration at (360) 658-0506.