How Our Fire Damage Cleanup Team Helps Homeowners in Marysville
8/19/2023 (Permalink)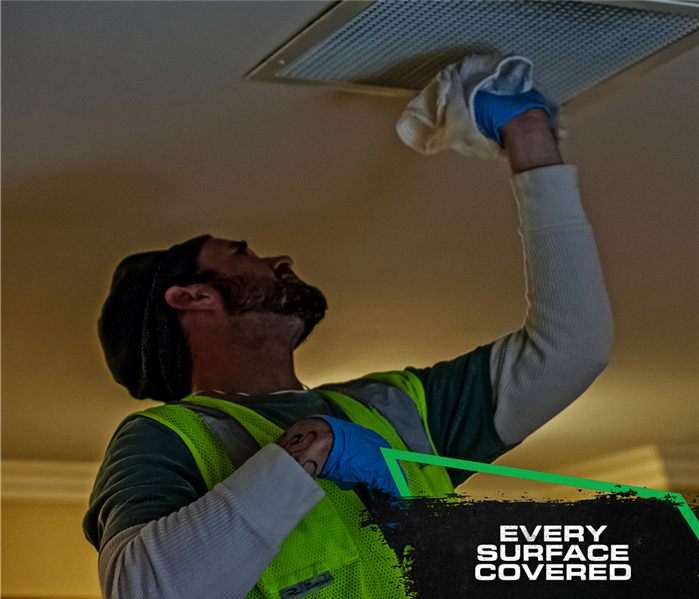 Fire damage cleanup starts with removing odor-causing soot residue from your Marysville home. "Like it never even happened."
We Always Simplify Complicated Fire Damage Cleanup
Disasters can turn your serene, peaceful life in Marysville upside down. One disaster that can touch your entire home and every aspect of your family's lives is fire. Fire damage cleanup can sound complicated, especially when everything feels negative.
Families in Marysville call SERVPRO® for fire damage cleanup. We understand how to efficiently clean up after a disaster and make the process understandable to the customer. Understanding what we must do to their property evaporates most of their distress.
We explain some of the questions asked about cleaning up after a fire, such as:
How will my house's interior surfaces be cleaned?
Can the more delicate furnishings in my home be adequately cleaned? and
Does the project include getting the firefighters' water out of my property?
Walls and ceilings often come clean with a thorough scrubbing that includes our in-house cleaning agents. Then we use clean water and a fresh towel to remove any remaining residue. When scorching or marring is present, we make repairs. Smooth surfaces require similar treatment to prevent dulling by micro-etching from harsh soot.
We use various cleaning tools to remove embedded soot and other smoke by-products. Some items, such as fine drapery linings, require specialized cleaning treatments. One such way is our ultrasonic cleaning machine, which can remove any foreign matter on the surface of many collectibles.
During the fire, water is a beneficial substance. Afterward is a new beginning, in which that water can cause problems. We remove it through extraction methods such as weighted units, removal of carpet and padding, and desiccant machines. We know water can move within the confines of your residence, including through evaporation and condensation. Our infrared cameras help us locate any hidden pockets of trapped moisture so we can help you avoid any moisture-related problems.
For a professional response that can clean and restore your property after any disaster, call SERVPRO of Marysville / Arlington at (360) 658-0506.